Lessons From Walmart and Amazon's Failures in Asia
Businesses searching for bottom-line growth often look to entice new consumers in markets where they don't already have a presence. But global expansion isn't for everyone. It can be costly and complicated. Without a proper strategy, the research to truly understand the local market, and a lot of patience companies — even those that are well-capitalized and have high brand awareness — waste a lot of money and often fail at first.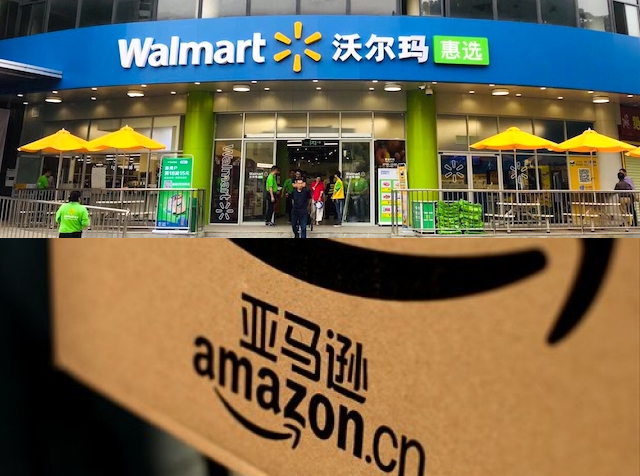 While Walmart and Amazon are retail giants in the U.S., both companies encountered significant hurdles entering the Japanese and Chinese markets in the early 2000s. We argue that their difficulties could have been prevented with more attention given to researching local customs, consumer behavior, and the competition.
In this article, we explain how Walmart and Amazon executed their expansion in Japan and China, respectively, and suggest what they should have done differently to avoid their failures.
Louis Vuitton, Versace, Mercedes Benz…Walmart?
Entering the lucrative Japanese market may be as confusing, as it is attractive. Japanese consumers like to shop and Walmart knew it. But, when they first entered Japan, it's clear to us that they failed to first conduct a thorough market research analysis.
Walmart's competitive approach is to buy goods in bulk, demand cost-efficiencies from its suppliers, leverage their sophisticated logistics networks, and position their stores in areas with lower real estate value. In turn, Walmart achieves lower overall costs and, by extension, extends lower pricing to consumers.
This strategy is effective in the U.S. because many American consumers appreciate great value for their dollar and enjoy a good bargain, regardless of the brand name. But this didn't hold true when Walmart expanded to Japan.
Japanese consumers generally prefer luxury goods over lower-cost brands. As of 2020, Japan's personal luxury goods market ranked third in the world, after the U.S. and China. When Walmart arrived, Japanese consumers were disillusioned by Walmart's "low prices" slogan and assumed that the goods it carried were either generic or of low quality.
In a short period of time, consumers paid little attention to Walmart and the company was ultimately rejected. In fact, in late 2020, Walmart sold their majority stake in Seiyu and has nearly completely exited the Japanese market.
Lesson:
Walmart's failure to consider differences in purchasing behaviors, lifestyle, and culture is ultimately what caused them to fail in Japan. But a successful expansion effort into Japan is possible and, if this market fits your strategy, should be considered.
Had Walmart conducted a comprehensive market research study and more thorough competitive analysis before entering Japan, they would have known about its fragmented market with intricate supply chains and fierce local competition. They may have also had the foresight to pivot quickly and adapt to the Japanese preference for exclusive private-label offerings and an exotic "treasuring-hunt" type of shopping experience, and tone down the "low price" messaging. "Cheap" doesn't always mean "good," and the Japanese know it.
Failing to Adapt to Chinese Online Norms
For Amazon, the on-line retail giant had its own difficulty when it first arrived in China. One of their first failures was not modifying its management style to meet local expectations of Chinese employees. When companies enter a new market, they should carefully adapt workplace norms to local employees, and deploy executives to the new market with familiarity and appreciation for the culture.
Instead, Amazon rolled out their western management style and installed foreign executives without empathy towards Chinese norms nor with any experience in China. As a result, local business strategies were completely misaligned with online Chinese consumers.
Aside from management style and, ultimately its marketing approach, Amazon failed to recognize the power of local companies Alibaba and JD. These local, online retail giants both had a much more extensive distribution network in China than Amazon and were able to offer much faster and cheaper delivery services. They also benefited from greater brand awareness among Chinese consumers, which continue to give them a competitive advantage over Amazon today.
Lesson:
When entering a new market, culture matters both within your organization (see change management article) and with your consumer base. Like Walmart, Amazon should have conducted a more thorough market research study to better understand management norms, consumer trends, and marketing strategies. Your competition should also be carefully studied so that you can fully understand how to attract their customers by properly differentiating your products and services.
How Factum Global Could Help You Win in Global Expansion
We can all learn from Walmart and Amazon's expansion missteps. Even as industry giants, they failed to have a comprehensive, localized strategy to appeal to local consumers and minimize reputational and costly risks.
Many organizations lack the internal capacity to conduct robust market research and analysis. Allowing a firm like Factum Global to guide your research and strategy will minimize uncertainty and avoid making mistakes that will jeopardize your expansion efforts.
Here's how we can help:
We have a vetted team of in-country experts in every major market, so we know the right questions to ask and where to go for answers.

We are well adept to become a seamless extension of your team and get the buy-in you need from your Board of Directors and other stakeholders.

We have over 75 years of experience and footprints all over the world, making us well-positioned to aid any firm in market research and competitive analysis.
Our experienced team of globally-minded professionals will help you rethink and reshape your operating model so you can adjust to international markets.
Every country has a unique business culture that must be understood before your company goes global. Don't make the same mistakes as Amazon and Walmart.