Vietnam – The Budding Machinery and Manufacturing Powerhouse in Asia
Vietnam's economy has significantly grown over the last several years. It's a market you should seriously consider if you're going global and seeking new opportunities in Southeast Asia, particularly if your business involves manufacturing.
After unification in 1975, Vietnam emerged as one of the best globalization and economic success stories of all developing nations. On the brink of collapse after the Vietnam war, the country regrouped and launched its Doi Moi ("open door") reform policies of 1986. These policies encouraged an average annual GDP growth rate of 6.37% between 1985 – 2020, according to the World Bank. (The world average annual GDP growth during the same period is a mere 2.79%.) Over these past 35 years, Vietnam's average annual growth rate has even surpassed India, known for its tremendous growth rate, and is now only second to China.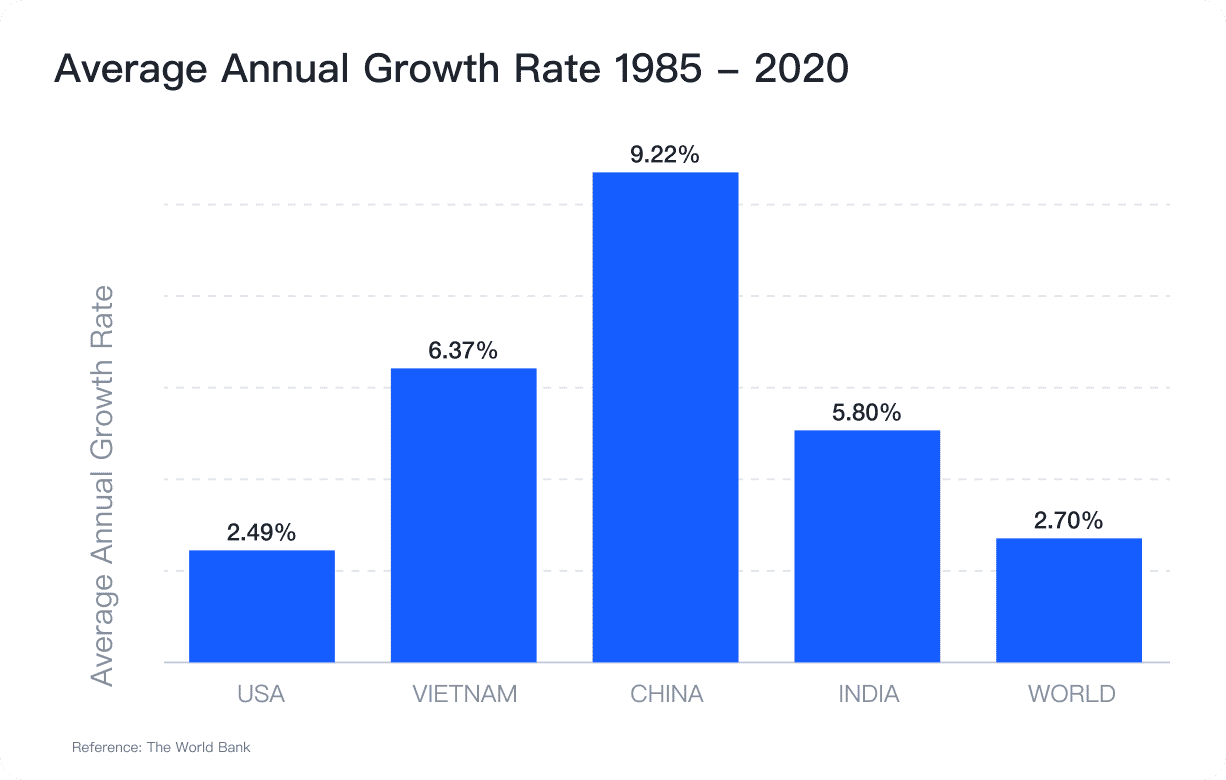 Opportunities for Manufacturers
As Vietnam emerges from Covid lock downs and its average GDP growth rate reaches more than 5% year over year, some key trends are beginning to emerge for the country.
Key Trends
1. Manufacturing-related imports are on the rise: Vietnam's key import categories (2010 to 2019) includes machine and electrical equipment products on top (40%), with Metals (10%), and Textile & Clothing (8.22%) following. If your company produces machinery and electrical equipment and you're not already selling to Vietnam, add it your list ASAP.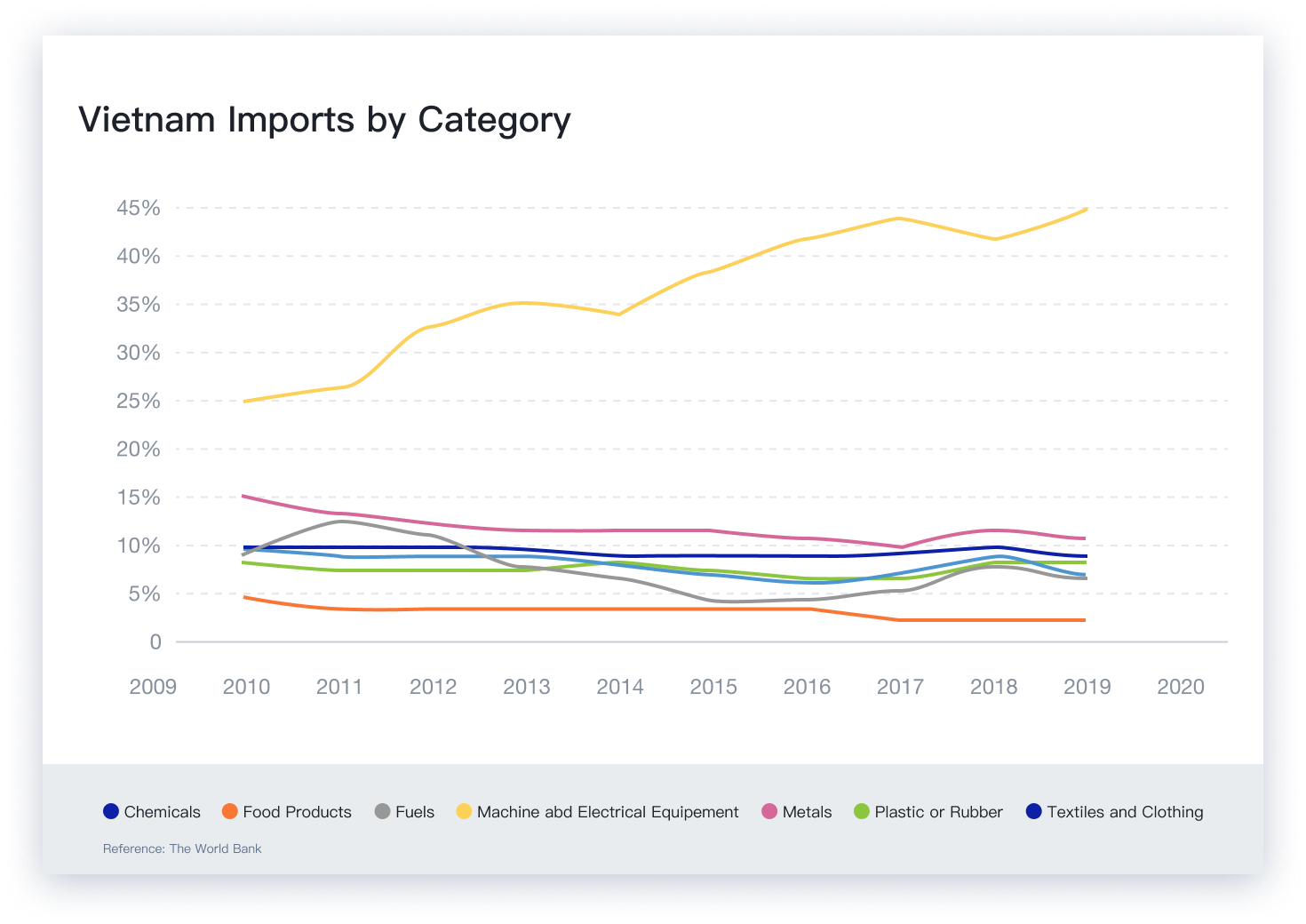 2. Vietnam has become more selective in choosing trading partners given geopolitical tensions in the region and globally. This requires that companies interested in trading in the region provide an even more precise value proposition to their Vietnamese trading partners.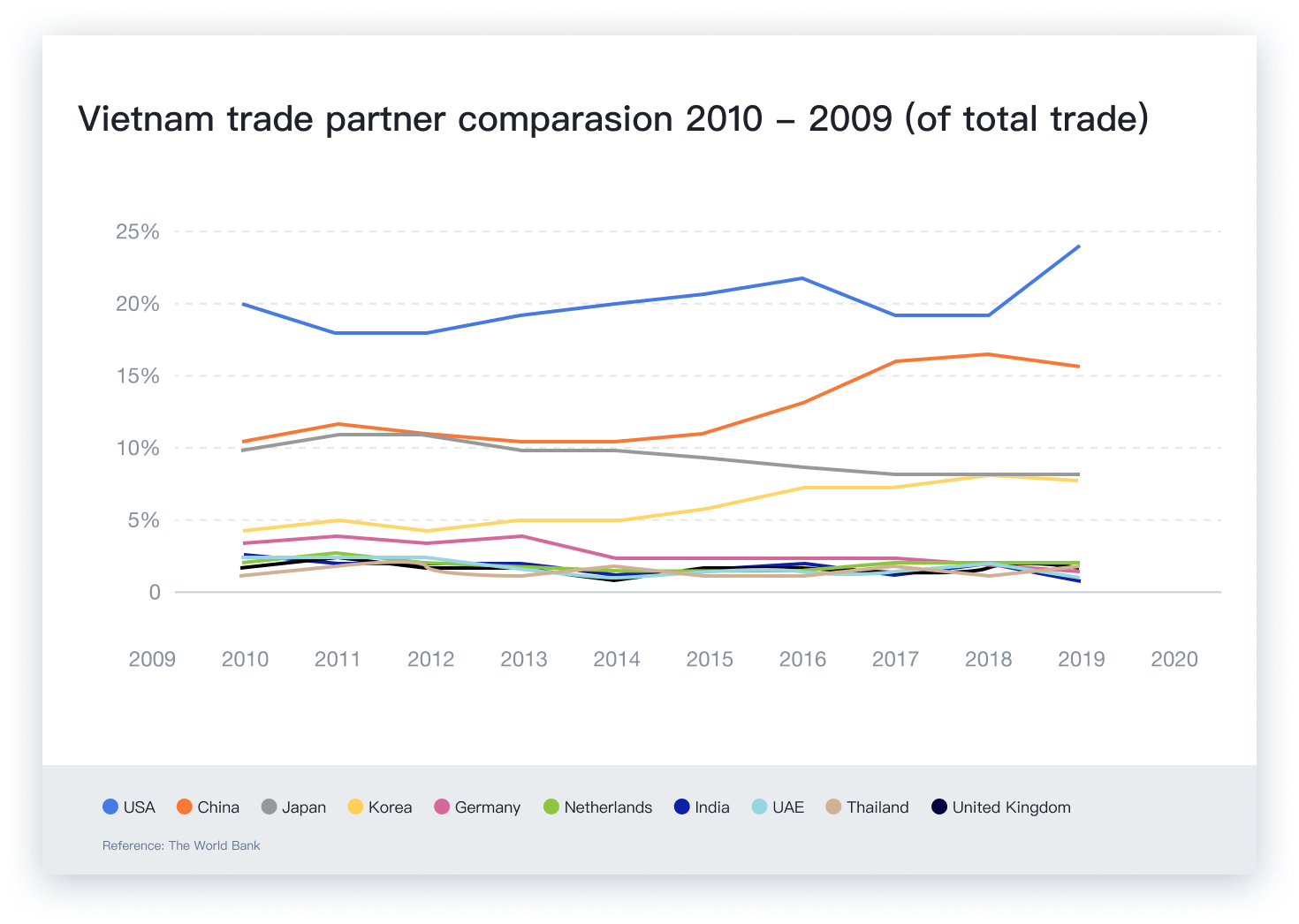 3. The country continues to leverage its open-door policy and has begun to replace incumbent manufacturing partners. New manufacturers, particularly those using innovative processes or new technology may have an upper hand today.
4. Vietnam continues to use its low cost of labor in manufacturing to steadily increase trade with foreign markets, including the U.S. and China. As geopolitical tensions flare, Vietnam remains committed to offering a business-friendly environment to all nations.
Vietnam's Future
Vietnam's leadership has committed to becoming a high-income country by 2045, according to the World Bank. To do that, the country must reach and sustain an average growth rate of 5% until 2045. Despite Covid, the nation has all but surpassed that average GDP growth rate with an average growth above 7% for 2018 and 2019.
According to the World Bank's latest Systematic Country Diagnostic Update, "the most effective way for Vietnam to pursue their 2045 goal is to improve its policy implementation performance dramatically, particularly in finance, environment, digital transformation, poverty/social protection and infrastructure." While the country is focused on making these policy changes to encourage future foreign investment and ensure GDP growth, innovative business leaders in these areas should continue to monitor developments and remain vigilant of future business opportunities as policies become more favorable.