Market Spotlight: Germany

Here's our assessment on how Germany ranks as a market for global expansion.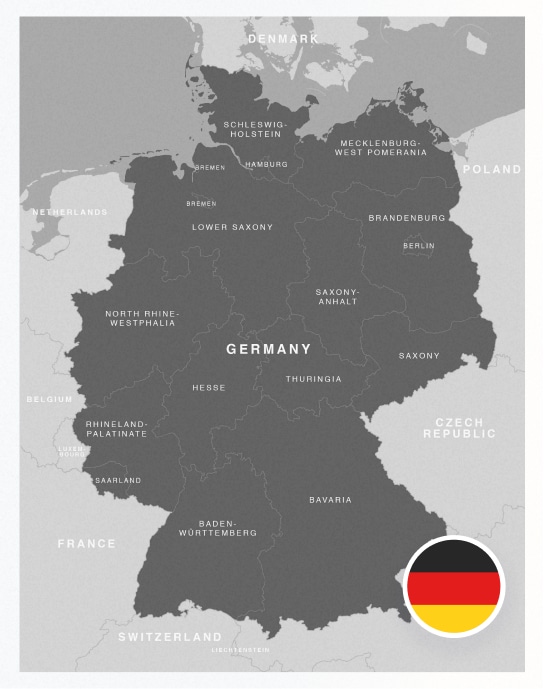 Firms producing high-quality, modern, reliable, innovative products should explore Germany. Germans have a keen sense for high-end products and are less sensitive to price than elsewhere.

The German market is regionally decentralized and diverse, which may be challenging to businesses that don't account for the regional taste.

New market entrants should be wary of competition with a strong local presence, though unique, quality offerings are likely to sway consumers.
Germany ranks 11 of 112 countries on EF's English proficiency index and 10th out of the 35 European countries.

English is widely spoken in cities and most regional commercial centers.

Foreign languages are mandatory in school systems across the country and English is often the first choice.

Germany's labor cost, according to Trading Economics, is ranked 115, compared to Turkey (419), the highest in the EU, and Ireland (90.8), the lowest. The EU average is 120, placing Germany below the mean.

Despite the below-average score, Germany is known to have higher labor costs because of a combination of high levels of productivity, skilled labor, quality engineering, and robust infrastructure.

Higher wages and costs are prominent in the industrial sector, while the service, transportation, and trade sectors boast the lowest.

The hangover from the COVID recovery, including labor shortages, supply chain congestion, municipal debt, and inflation, coupled with high (and rising) energy prices will likely threaten short-term competitiveness for Germany and its neighbors.

Germany managed COVID better than most EU nations; unemployment remained low at 5.7% (summer 2021). The loosening of related restrictions has spurred real GDP to grow by 2.8% but instability from the Russia-Ukraine conflict has led to lower forecasts.

Germany remains the 4th largest economy in the world and accounts for nearly a quarter of the EU's GDP (2021).

It is the largest consumer market in the EU and its prime location on the continent makes it attractive to firms that rely on a well-established European supply chain.

Arriving late for a meeting in Germany will more than likely ruin your chances of making a deal. German executives value highly formal business communications, reflected in punctuality, dress, and scheduled appointments.

Germany is a low-context culture that values direct, explicit communication.

The organizational hierarchy is well-respected and there is a sharp line drawn between professional and personal lives.

Although German is the official language, English is commonly found in business settings in larger towns and cities.

Overall, Germany supports and invites FDI with minimal obstructions with few barriers and restrictions to US trade and investment.

US firms seeking business expansion opportunities in Germany must comply with the EU Commission's standards and regulations.

Many find EU Commission regulations too restrictive and Germans are lobbying to reduce barriers to promote greater competition among EU member states.

Foreign investors should be mindful of the complicated tax system and high marginal tax rates, in place to support its welfare state. Deductions, allowances, and write-offs, however, are used to encourage competition.
See our other Market Spotlights