Why the U.S. Southeast May Be Optimal for Your American Soft Landing
In recent years, companies from outside the United States have been increasingly finding business expansion opportunities in the southeastern region of the country. The Southeastern U.S. is considered to include the states of Florida, Georgia, Alabama, Mississippi, Tennessee, North Carolina, and South Carolina. This region has seen significant growth in various industries, making it an attractive destination for foreign companies to establish a U.S. presence.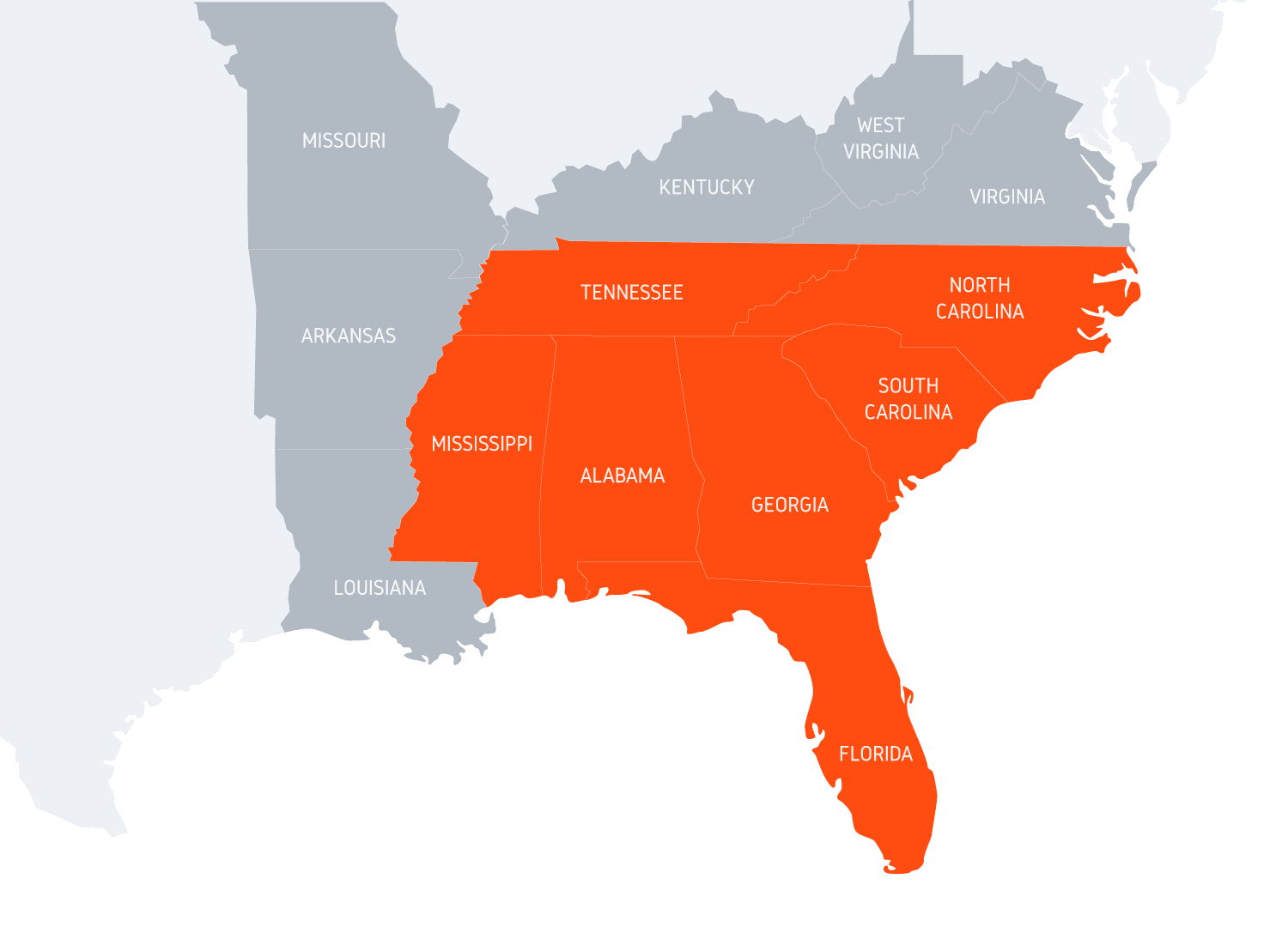 In this blog, we will explore the industries that are growing the fastest and the incentives that your company has available to take advantage of when expanding to
the Southeastern United States
.
If your company operates in these fast-growing industries, then opportunity awaits in the Southeast. 
✅ Tech
✅ Aerospace
The region has a long history of aerospace manufacturing and research, with companies like

Boeing, Lockheed Martin, and Northrop Grumman

operating there for decades. The aerospace industry has seen significant growth in recent years (despite a setback in 2020 due to the pandemic) driven by the development of new technologies and increased demand for commercial and military aircraft.
Aerospace and aerospace supply companies have benefited from a "reshoring" to the region due to low energy costs, pro-business state regulations and incentives, lower living expenses, labor supply, access to U.S. defense market, supply chain resilience in reshoring and nearshoring, and information spillovers.
✅ Healthcare
Companies operating across the healthcare industry supply chain should consider taking advantage of opportunities for growth here.
So, why should you establish a presence in the Southeast? Here are a few reasons:
✅ Lower Cost of Living
One of the main incentives for companies to expand their  business in the Southeast  is the lower cost of living, with 6 states in the region in the top 10 lowest cost of living U.S. states. Among other things, this makes it that much easier for companies to attract and retain talent.
✅ Supportive Business Environment
The region has a supportive business environment that is favorable to companies looking to establish a business. JD Supra, a news source for legal intelligence in business, examines the regions' attractiveness due to tax incentives, low regulatory burdens, and a skilled workforce, making it an especially attractive destination for non-U.S. companies.
Additionally, "Southern Hospitality" is in full force as professional and business organizations like the Berkeley South Carolina Chamber of Commerce, offer support, resources, and networking opportunities to local businesses to stimulate and drive growth in their backyard.
✅ Access to Major Metropolitan Cities
The Southeastern United States offers access to some of the largest markets in the country, including Atlanta, Charlotte, Miami, and Nashville. These cities are home to a large number of businesses and consumers, providing companies with strong access to a wide range of customers and suppliers expanding your total addressable market.
✅ Proximity to Airports and Ports
The Southeastern U.S. is home to some of the busiest transportation hubs in the country, including Hartsfield-Jackson Atlanta International Airport, the world's busiest airport (as of 2021), and the global Ports of Charleston and Miami. This sophisticated and well-developed transportation infrastructure makes it even easier for you to transport goods and materials from your home market into the U.S. Ship, receive, transport, and sell with confidence!
Raleigh-Durham, North Carolina, which is home to world-renowned universities – Duke University, University of North Carolina at Chapel Hill, and North Carolina State, to name a few.
Atlanta, Georgia and the surrounding Atlanta metro area is home to prestigious and technical universities such as University of Georgia, Emory University, and Georgia Tech.
On the R&D front, large research institutions, organizations, and companies – such as the Center for Disease Control and Prevention or CDC (Atlanta, GA), Coca-Cola (Atlanta, GA), Delta Airlines (Atlanta, GA), Home Depot (Atlanta, GA), Boeing and Airbus (Alabama), and many more which contribute to a growing need for supplier companies within these industries.
For example, cities like Savannah, Georgia and Charlotte, North Carolina have drawn a large number of automotive manufacturers (BMW, Honda, Toyota, and more) crowning the name "The Southern Car Corridor" which has made way for automotive suppliers to establish operations nearby.
South Carolina is also the world's largest producer of car tires produced by companies Continental, Bridgestone, and Michelin which moved to the region to support and supply the auto manufacturers.
The presence of highly-regarded universities and major corporations makes the region a place that boasts direct access to top talent and cutting-edge research that can help businesses develop new products and technologies to innovate, tap into the existing supply chain, and grow.
When you consider expanding your business to the U.S., do not overlook the opportunities provided for you in the Southeast. The region offers a supportive business environment, easy access to markets through well-established transportation infrastructure (airports, ports), and a highly-skilled workforce, at a fraction of the cost of other cities like New York, Los Angeles, or Boston. As the region continues to expand, it will likely become an even more attractive destination for foreign companies looking to establish a presence in the United States for years to come.
If your company planning an expansion to the U.S., contact us today to schedule a free meeting, and learn more about how we can help you through our business consulting services.
Our team has a physical presence across the U.S., including the Southeast, and welcomes the opportunity to meet with you in person.