4 Fast Growing Markets in Africa
Are you operating globally but still have doubts about investing in Africa?
Are you eyeing Africa for growth opportunities but remain hesitant and concerned about risk?
While you should consider risks in any market around the world, there are also plenty of reasons why expanding your operations to Africa could benefit your business. You should also consider the risk of not entering African markets or entering too late.
Having a strategic game plan for going global and working with the right local partners will help mitigate risk and lead to successful and sustainable growth on the continent.
We invite you to consider the following four African market snapshots and their potential for growth. Then, review our global consulting services to see how we can help you explore going global.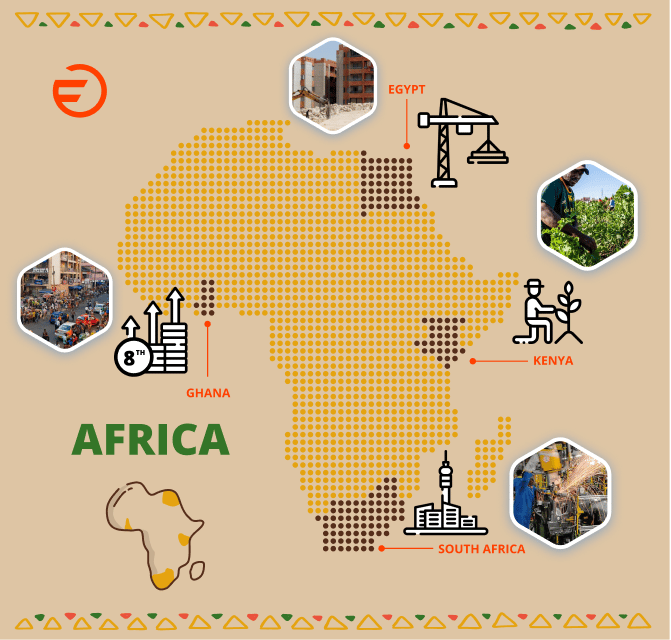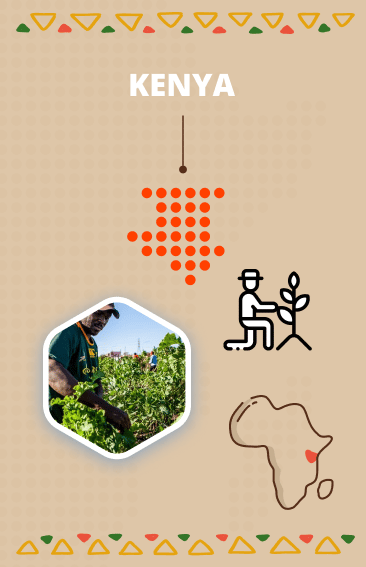 What's hot in Kenya?
One main goal of STIP is to facilitate agricultural trade between the US and Kenya, aimed to help ease food security issues and price shocks. The United States Agency for International Development (USAID) has helped materialize some of these goals already. Check it out

.
USAID has worked with Kenya to promote agriculture investment from the private sector in both Kenya and the US. USAID trade links have helped the less-developed Kenyan agricultural sector gain access to the US market, allowing Kenyan farmers to buy high-quality products and equipment as well as livestock/crop development services from the US to boost access.
Price shocks. While Kenya presents a variety of opportunities, Kenya has been hit with price shocks on fertilizer, wheat, and other food imports as a result of the Ukraine-Russia conflict and their decrease in exports. Be prepared to remain flexible on pricing as the conflict continues.
Why should you explore South Africa?
South Africa is one of Africa's largest growth economies (the "S" in BRICS), ranked 2nd in 2021 behind Nigeria with a

GDP of $418 billion. Agriculture, mining, and manufacturing contribute most to the nation's economic success.
So if you are working in or service these sectors, with innovative products or services, now is the time to focus on South Africa. The mining sector, in particular, has been wildly successful because of the sheer volume of mineral reserves that exist in the country. Key minerals are used in electric car manufacturing and contribute to broader clean energy initiatives.
One way South Africa is taking advantage of their mineral reserves is through investment incentives.

The Critical Infrastructure Plan (CIP) has been implemented to improve South Africa's infrastructure (roads, railroads, energy access, etc.) and ultimately lower the cost of harvesting minerals. The CIP attracts investment through providing government grants (some worth up to 30% of development costs) that reduce a significant burden for investors. Companies looking for growth in the South African mineral sector should consider these benefits.
With risk, comes reward. Here's one risk…
Costs: One key issue is that, while much of South Africa's mineral reserves remain untouched, mining remains a capital-intensive business. Setting up the right investment partners will be key to taking advantage of this growing sector (with an estimated $2.5 trillion worth of minerals yet to be mined).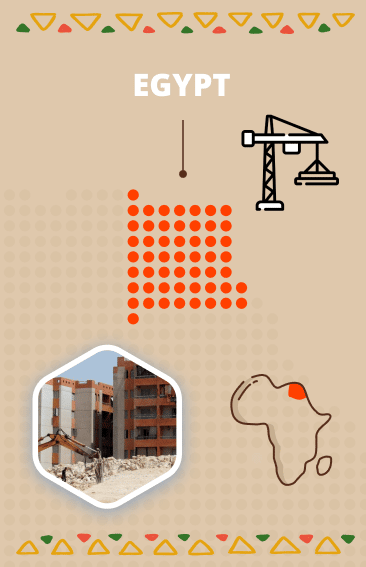 It's so much more than pharaohs and pyramids…
Egypt is Africa's third largest economy, with a GDP of $402 billion as of 2021.

Egypt's manufacturing, agricultural, and real estate sectors

have all grown and remained competitive during the pandemic, while the tourism industry saw a significant loss in revenue. As the pandemic eases, new growth opportunities in these sectors are emerging as Egypt reboots business.
As of May 2022, foreign companies can expedite the process of establishing business in Egypt via a

golden license that the Egyptian government selectively grants. In an effort to attract more foreign investment, golden licenses are being offered to companies working in public utilities, infrastructure, new/renewable energy, and transportation.
By streamlining the establishment of businesses in Egypt, the retail and real estate sectors are growing. With a golden license, building licenses and the allocation of property are more easily accessible, effectively bypassing historically complex routine procedures for foreign investors.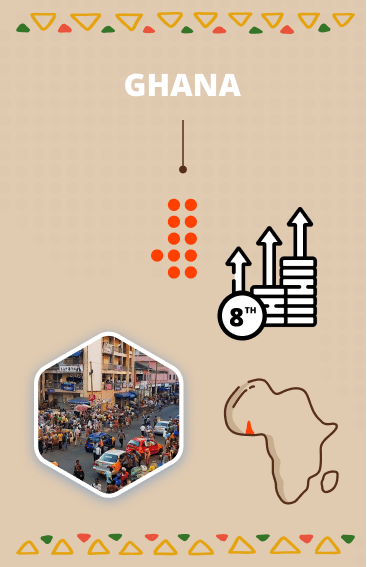 What's new in Ghana?
While not in the top growing economies in Africa (ranked 8th), Ghana's

GDP has increased nearly tenfold since 1987. Along with its mining, agricultural, and oil and gas sectors, Ghana's digital and financial services sectors have showed tremendous growth.
Ghana is also focused on improving it's energy sector through electricity. In 2014, the Millennial Challenge Corporation (MCC) launched

the Ghana Power Compact

,

which allocated $316 million to help improve the power sector in Ghana. Since then, the MCC has provided reliable and affordable electricity to homes and businesses across Ghana, but a long runway remains. Many of the compact projects have not fully expended their budgets, so government funds remain available to foreign companies capable of executing on these projects.
There are no legal barriers preventing entry for businesses in Ghana, except the minimum qualifications required by government agencies. Foreign companies seeking to do business in Ghana are expected to do so with incorporated companies or otherwise incorporate their subsidiaries locally. The Ghana Investment Promotion Centre offers additional valuable information.
Inflation risk is a top concern…
Inflation has been on the rise during the last year,

reaching over 30% in July 2022

. The Ghanian economy is very susceptible to prices shocks due to its reliance on a few main commodities (gold, cocoa, and oil), among other factors.
Kenya, South Africa, Egypt, and Ghana all present unique growth opportunities if you are operating in the right sector and have the right global strategy. From agriculture and agricultural services, to mining, energy, and even tourism, real opportunities exist for you today to grow your business in Africa.
But, rightfully so, you're still concerned with how to begin exploring. Doing business in Africa requires the right international business expansion partners and connections to get the ball rolling. If you'd like to continue exploring these opportunities,

contact us today

so we can discuss our global consulting services, how to get started, and connect you with professionals in the region who know the landscape.
How Professional Development Can Make a Global Impact on Your Team
January 13, 2023